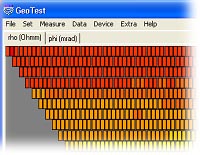 Geotest = geoelectrical data acquisition software
GeoTest is a software for controling geoelectric equipment in combination with many electrodes. This type of geoelectric measurement is called "Multielectrode Geoelectrics". Using two-dimensional or three-dimensional inversion techniques additionally for evaluation, this method is known as "Geoelectric Tomography".
GeoTest runs on desktop or notebook PCs with Windows operating systems. The hardware specifications are not critical. Depending on the kind of geoelectrical equipment, specific interfaces (RS232, USB) are needed.
Hardware
GeoTest supports hardware manufactured by "LGM - Lippmann Geophysical Equipment":

4-point light hp / 4-point light 10W: a high power, low cost induced polarization earth resistivity meter in a small package: for Schlumberger soundings up to L/2 = 1 km; for mapping, monitoring, geoelectric tomography, lab work, induced polarization measurements, archeology
ActEle: active electrodes for electrical resistivity tomography with direct interface for 4point light hp / 10W. Can be used to upgrade existing earth resistivity meters to state-of-the-art tomography systems.
Supports up to 255 electrodes for profiling lengths up to appr. 1000 m. Special hardware is available on request, which supports up to 65535 electrodes.
Interpretation of data

We recommend the inversion software Res2DInv and Res3DInv for interpretation of geoelectric tomography measurements.
Res2DInv supports 2-dimensional depth sections.
the "Res2DInv only" license includes limited use of the Res3DInv 3D inversion program
Res3DInv supports 3-dimensional investigations
Supports on land, underwater and cross-borehole surveys
Supports the Wenner (alpha,beta,gamma), Wenner-Schlumberger, pole-pole, pole-dipole, inline dipole-dipole, equatorial dipole-dipole, MGA, FRG and non-conventional arrays.
Supports exact geometry factors in case of 2-electrode or 3-electrode configurations
Supports exact and approximate least-squares optimisation methods
Supports smooth and sharp contrasts inversions
Supports up to 16000 electrodes and 21000 data points on computers with 1GB RAM
Seamless inversion of very long survey lines using sparse inversion techniques
Supports topography
Price of the software and licence policy
1 licence = 1200 EUR.
This fee includes the licence for using Geotest in combination with one geoelectric measurement device.
The user may install Geotest on more than one computer without an additional charge.
Future updates of Geotest will be available without additional charges by download from our website.
Registration: Each computer running Geotest must be registered.
Registration is done by delivering a software key by default.
Alternatively, an optional hardware key (USB dongle, 80 EUR) may be used.
Unregistered Geotest version serve as demo versions and can handle up to 20 electrodes.
Registered Geotest versions can handle up to 255 electrodes for one single measurement.
additional licence = 600 EUR
This fee is for the 2nd or following licence. Each geoelectrical device needs an own Geotest licence. Example: if the user has 2 geoelectrical devices, he also needs 2 Geotest licences.
We can offer interesting packages:
Complete package for state-of-the-art Geoelectrical Tomography consting of:
- measurement hardware: 4-point light 10W
- Active electrodes ActEle up to 255 electrodes
special hardware available on request with up to 65535 electrodes
- measurement software GeoTest
- Inversion software ResXDInv
Software package consisting of
- measurement software GeoTest
- Inversion software ResXDInv
Interested? Please ask us.